<![CDATA[
FOR IMMEDIATE RELEASE
April 30, 2014
CONTACT
NHMC Congratulates NBA on Swift Rebuke of Racism
Yesterday evening, National Hispanic Media Coalition (NHMC) staff attended a rally outside of Staples Center to celebrate the National Basketball Association's decision to ban Clipper-owner Donald Sterling for life and to fine him $2.5 million. At the rally, NHMC urged the NBA's Board of Governor's to vote to permanently remove Sterling as the Clipper's owner. NHMC attended the rally in solidarity with the African American community, the main targets in Sterling's latest rants. Sterling also has a history of discrimination against Latinos.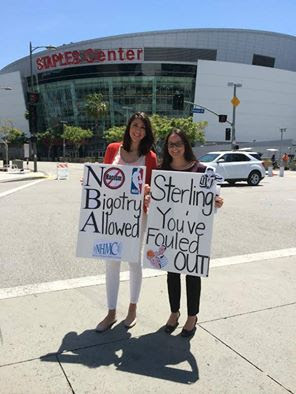 The NHMC is a non-profit organization founded in 1986 in Los Angeles, CA, dedicated to a fair media system that is inclusive of Latinos, and to open, affordable and universal communications. For many years NHMC has fought hate speech in media, and it has published numerous studies and opinion polls on the matter. For further information about NHMC's anti-hate work please visit 
https://www.nhmc.org/category/responsible-and-inclusive-media/responsible-media-hate-speech/
and for anti-hate reports see 
https://www.nhmc.org/reports/
.
 ###
About NHMC
The 
National Hispanic Media Coalition
 (NHMC) is a media advocacy and civil rights organization for the advancement of Latinos, working towards a media that is fair and inclusive of Latinos, and towards universal, affordable, and open access to communications. Learn more at 
www.nhmc.org
. Receive real-time updates on 
Facebook
and Twitter 
@NHMC
.
]]>