<![CDATA[FOR IMMEDIATE RELEASE February 23, 2015
CONTACT Brian Pacheco, NHMC bpacheco@www.nhmc.org 213-718-0732 (m) 626-792-6462 (o) 
Latino Talent Celebrated at 18th Annual National Hispanic Media Coalition Impact Awards Gala
NHMC Honors Outstanding Contributions to Positive Media Portrayals of Latinos
Late Actress Elizabeth Peña Commemorated in Special Memorial Tribute Presented by Andy Garcia
Lisa Vidal and Roselyn Sanchez (Photo by: Salvador Ochoa/NHMC)
BEVERLY HILLS, Calif. - On Friday, the National Hispanic Media Coalition (NHMC) honored outstanding contributions to the positive portrayals of Latinos in media at its 18th Annual NHMC Impact Awards Gala at the historic Beverly Wilshire Hotel in Beverly Hills, California. Roselyn Sanchez, star in Lifetime's Devious Maids, and Lisa Vidal, star in BET's Being Mary Jane,were the evening's masters of ceremonies.
Photographs from the 18th Annual NHMC Impact Awards Gala may be found immediately at www.gettyimages.com or  www.flickr.com/nhmc. Video clips are now available at www.youtube.com/nhmcorg.
Carlos Ponce (Photo by: Brian Biery/NHMC)
The NHMC Impact Awards Gala recognizes the outstanding achievements and contributions to positive portrayals of Latinos in media. The annual gala is one of the premier Latino entertainment events in the country, hosting Hollywood's most influential figures. At the gala, international star 
Carlos Ponce
 received the Outstanding Performance in a Television Series award for his portrayal of Felix on ABC's comedy series 
Cristela
. Accepting the award, Ponce thanked NHMC for speaking out for "all of us" so that media can depict Latinos "the way we're supposed to be seen." He also recognized his role in paving the way for future Latino artists to continue making a difference in how media represents Latinos.
Melissa Fumero (Photo by: Brian Biery NHMC)
Brooklyn Nine-Nine
 star 
Melissa Fumero 
received the Outstanding Performance in a Television Series award for her depiction of Detective Amy Santiago in the Fox comedy series. In her acceptance speech, she recalled thinking, "What an amazing opportunity to help create an intelligent, accomplished, caring, capable, comedic Latina character," when she landed her current role.  Fumero called it a "privilege" to "channel all the amazing Latina women [...] who have set an example for me," and recognized that multi-dimensional Latino characters like the one she portrays are still uncommon on television. Fumero thanked her Cuban immigrant parents for their support, expressed gratitude to veteran Latino artists for forging a "path for us to follow," and lauded 
Brooklyn Nine-Nine
 creators Dan Goor and Mike Schur for creating a show "where diversity and inclusion is the norm and not exception."
Jon Seda (Photo by: Brian Biery/NHMC)
Jon Seda received the Outstanding Performance in a Television Series award for his role as Detective Antonio Dawson on the NBC drama Chicago P.D. "I was a kid from Jersey, an amateur boxer, I had no thoughts of acting, never thought that I'd one day be here," Seda said, recounting the origins of his acting career spanning more than two decades. Portraying an honest character who loves his family and his job, and is always trying to "do the right thing," is something "positive," Seda said, underscoring the importance of positive role models on television who are Latino. The actor recognized the contributions of Latino artists for their trailblazing achievements to advance progress for Latinos in the industry, and acknowledged the long road ahead to full Latino inclusion.
In a pre-recorded message, Golden Globe-winning actress 
Gina Rodriguez 
accepted the Outstanding Performance in a Television Series award for her lead role in the CW's hit series 
Jane the Virgin.
 "I'm so blessed and proud to be a part of the National Hispanic Media Coalition," she said. "I will continue to make the community proud so that I can be empowering to all the young Latinas out there."
Jorge R. Gutierrez (Photo by: Brian Biery/NHMC)
Jorge R. Gutierrez, director of 20th Century Fox and Reel FX's hit animated fantasy-adventure film The Book of Life, received an award for Outstanding Direction in a Motion Picture. "I will use this as a sign that I'm on the right path --that our community of Latinos is hugging me, and giving me strength to continue, and I will use this as a weapon to continue to smash doors down," he said accepting his award. Gutierrez recounted the many closed doors in his journey to directing the film with the largest Latino cast in the history of animation. When pitching The Book of Life, "Every single studio said we can't make a movie about Latinos [or] this subject matter. There's no audience for this," Gutierrez recalled.  He stressed the crucial role of established Latinos in the industry in helping lift up aspiring Latino creators, and credited filmmaker Guillermo del Toro for his invaluable role in making The Book of Life a reality. Filmmakers of del Toro's stature never give first-time directors an opportunity, Gutierrez said, but del Toro helped Gutierrez because he believed he would pass it down to others.
Beatriz Acevedo (Photo by: Brian Biery/NHMC)
NHMC presented
 MiTú, Inc.,
 a media company and digital multi-channel network operator, with the inaugural Outstanding Innovation in Social Media award. "For us it's incredible to be building this company by Latinos and for Latinos," said MiTú Network Founding Partner and President 
Beatriz Acevedo
, who accepted the award on behalf of the company, which has amassed a global audience of 70 million by connecting Latino creators with audiences, brands, television networks and film studios, and each other in its nearly three years of existence. Acevedo said the company isproud to help open doors, give a voice, and eradicate stereotypes about Latinos with the "power of digital," saying, "No longer as an actor do you need to wait for anybody to cast you. No longer as a creator do you need to wait around for someone to greenlight a show for you."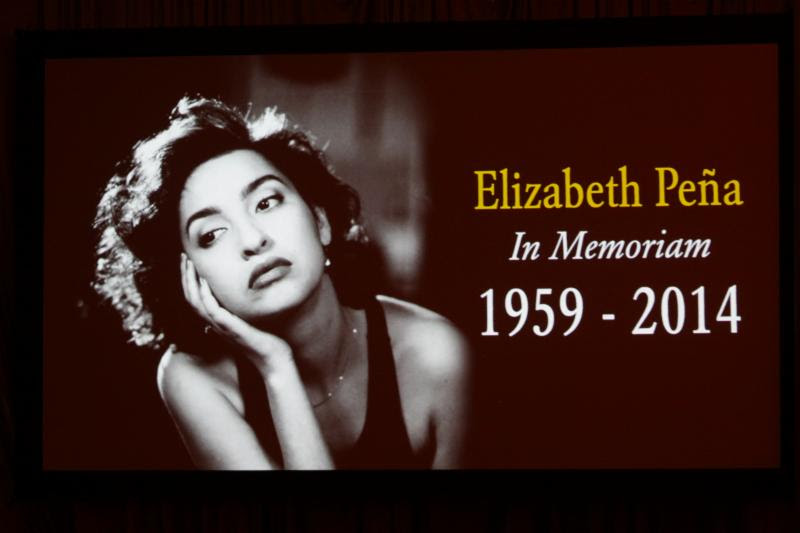 Andy Garcia
 presented an emotional memorial tribute to his dear friend, actress 
Elizabeth Peña
. The late actress, who died at 55 last year, was well known for her vast body of work in film and television, including 
Modern Family
, 
Resurrection Blvd
, 
Down and Out in Beverly Hills
, 
La Bamba
, 
Lonestar
, 
Jacob's Ladder
, T
ortilla Soup
, and her own primetime ABC series 
I Married Dora
. In 2000, NHMC awarded Peña for her trailblazing achievements that paved the way for Latinos in Hollywood.
Andy Garcia (Photo by: Salvador Ochoa/NHMC)
"From the moment I saw her I immediately knew that she was special," Garcia said of Peña. "You have inspired me with your gift from the very start." "With her force of nature," Garcia recalled, "any moment you spent with her immediately became a memorable moment in your life." She was a "true friend," an "extraordinary person" and "extraordinary artist," Garcia said."What a tremendous loss." "Elizabeth, your artistry and soul will live in all of us forever," Garcia affirmed. "I love you and you will never be forgotten."
For more information, visit: 
www.nhmc.org/ImpactAwards
.
The NHMC Impact Awards Gala also raises important funds to support NHMC's efforts to increase positive media portrayals of Latinos, expand Latino employment in media and telecommunications, push for federal media and telecommunications policies that advance Latinos and other people of color. The 18th Annual NHMC Impact Awards Gala was supported by The Walt Disney Company and Disney ABC Television Group. Other sponsors include Comcast NBCUniversal, Davila Multicultural Insights, Univision Communications, Inc., CBS Corporation, Southwest Airlines, NUVOtv, SOS Global Express, HBO, BabyFirst, Bright House Networks, Entravision Communications Corporation, Edison International, A+E Networks, Sprint, Warner Bros. Entertainment, Google, and The Art Laboe Foundation. T-Mobile was the official Wi-Fi sponsor. Moët et Chandon was the official champagne reception sponsor.
###
About NHMC
The 
National Hispanic Media Coalition
 (NHMC) is a media advocacy and civil rights organization for the advancement of Latinos, working towards a media that is fair and inclusive of Latinos, and towards universal, affordable, and open access to communications. Learn more at 
www.nhmc.org
. Receive real-time updates on 
Facebook
 and Twitter 
@NHMC
. La Coalición Nacional Hispana ante los Medios (NHMC, por sus siglas en inglés) es una organización de abogacía en los medios de comunicación y de derechos civiles que impulsa el avance de latinos a través de la nación. NHMC trabaja para lograr medios de comunicación justos e inclusivos de latinos, así como acceso universal y abierto a las redes de comunicaciones. Para más información, visite:
www.nhmc.org
. Conéctese con NHMC en 
Facebook
 y Twitter 
@NHMC
 para recibir actualizaciones.]]>