<![CDATA[In this Edition of NHMC at Work
NHMC's Alex Nogales Featured in LA Times' Diverse 100 List!
Elena of Avalor
Save the Date on NHMC's Fall Events
NALIP Media Summit
NHMC TV Writers Program
D.C. Policy Shop Update
NHMC is Hiring!
CCNMA Scholarship Banquet and NAHJ Los Angeles Awards
Please Support NHMC's Radio Station
Writers Program Countdown
NHMC Welcomes New Communications Assistant
Tony Awards Recap
NHMC Friend and Ally, Alison Sotomayor, Receives Los Angeles Emmy Nom for Documentary
Queen of the South
---
NHMC's Alex Nogales Featured in LA Times' Diverse 100 List!
On June 6th, the Los Angeles Times published "Our Diverse 100" listing 100 diverse influencers impacting Hollywood who would make great additions to the Academy of Motion Picture Arts and Sciences (AMPAS), in response to the #OscarsSoWhite controversy this past awards season. NHMC's Alex Nogales was included and recognized for his work in advocating for more Latinos in the film and television industry – in front of the camera and behind the scenes. To read the LA Times' Q&A with Alex, click
here
.
---
Elena of Avalor
Coming soon – Disney's first Latina Princess, Elena of Avalor! We are very proud of NHMC Writer's Program alumni Silvia Olivas, who will be the head writer on the new Disney Channel series Elena of Avalor. This month, Silvia published a piece on our new
Medium
page about her journey from NHMC's TV Writers Program to head writer of a series that will showcase the first Latina princess. With creator/executive producer Craig Gerber, the team of Elena integrated stories and characteristics from their own diverse backgrounds to tell the story of their hero, Elena, who is not only a sister, daughter, and granddaughter, but a ruler and a female role model to anybody who watches. Elena of Avalor will premiere on the Disney Channel on July 22.
---
Save the Date on NHMC's Fall Events! 
For
sponsorship details
, email Brenda Rivas at
info@nhmc.org
. Coming soon is NHMC's 14th annual Los Angeles Impact Awards Luncheon to be held on September 8th at the Hilton Universal City hotel. The luncheon recognizes talent and community leaders in the second largest designated market area (DMA) in the country – Los Angeles. Past award recipients include: Art Laboe, Ruben Luengas, Jaime Jarrín, Sam Rubin, Ana Garcia, Big Boy, Laura Diaz and Vikki Vargas. The event gathers 220 industry leaders. To see last year's award recipients,
click here
.
---
NALIP Media Summit
To close out the month of June, NHMC attended the 2016 NALIP Media Summit at the Dolby Theater in Hollywood. NALIP organizes the largest annual gathering of Latinos in media nationwide and this year, the Media Summit featured a plethora of panels, signature conversations, special screenings, creative workshops, keynote luncheons with Rita Moreno and HBO President Len Amato; and an awards gala. Among the nation's top latino content creators and professionals that were invited to share their stories and expertise were some of NHMC's very own.
Nilda Muhr, NHMC Director of Programs and Special events explored the New Frontier of Media and moderated a very enthusiastic and engaged panel of industry leaders focused on encouraging creatives to push their boundaries in relevant platforms. NHMC Writers Program graduates Davah Avena, Evette Vargas, and Judalina Neira spoke on panels where they shared their experiences about working in the writers room and the significant impact the NHMC TV Writers Program has had on their writing careers, inspiring many budding writers to apply. NHMC board member Ligiah Villalobos also joined in on the conversation while moderating a panel on the different writing programs in the industry and plugged our very own multiple times (deadline to submit is August 7th). The weekend ended with the Latino Comedy Showcase hosted by Al Madrigal where NHMC TV Writers Program graduate and comedian Chris Garcia showcased his talent and the NALIP 2016 Latino Media Awards where NHMC staff and board members attended to honor legendary stars like NHMC Impact Award recipient Tony Plana.
---
NHMC TV Writers Program 
NHMC is proud to announce the following exciting updates from our TV Writers Program graduates that are doing great work in the industry:
Ben Lobato is a supervising producer, and Mark Valadez is a staff writer on eOne and DirecTV's Audience Network pilot titled ICE, set in LA's diamond district. The network plans to premiere the show in late fall.
Emilia Serrano joined the writing staff of Comedy Get Down for BET.
Sarah Hernandez is script coordinator on DC's Legends of Tomorrow at CW.
Chris Encell is the showrunner's assistant and Eugene Garcia Cross is the writers' production assistant on NBC's Downward Dog premiering in January 2017.
Evette Vargas was recently accepted to join the NALIP/Televisa Telenovela Fellowship.
Congratulations everyone!
Don't forget to apply to the NHMC TV Writers Program!
The NHMC Television Writers Program
is a direct response to the lack of diverse writers in television and is inviting all Latino television writers looking to hone their skills to apply for the paid, five-week workshop that focuses on writing an original TV pilot in a simulated TV writers room.
Submission Period: April 4 – August 7
Program Dates: October 3 – November 4
For more information and to apply please visit NHMC's website at
www.nhmc.org/writersprogram
.
---
D.C. Policy Shop Update Policy
NHMC Demands SiriusXM Restore Latino-Serving Channels
Earlier this month, NHMC joined a coalition of civil rights groups, record labels, and artist advocacy organizations demanding that SiriusXM take immediate action to offer satellite-broadcast music stations that include more Latino voices and culturally relevant programming after they
terminated eight out of 10 of the Latin music channels
on their satellite platform over the last few months. SiriusXM removed these stations with little notice to listeners, labels, or artists. One of the two remaining Latin stations dedicates significant airtime to non-Latin artists, and the severe programming changes on the platform have relegated entire genres, including Regional Mexican, Reggaeton, Latin Rock, Salsa, Latin Pop and Latin Jazz, to online-only broadcast-no longer available in cars. The coalition has asked SiriusXM to restore a number of Latin channels to satellite broadcast on regular SiriusXM car radios, and to make wide-appealing stations such as Aguila (Regional Mexican) and La Kueva (Latin Rock) available to subscribers with the basic car radios, and to improve the overall quality of the Latin music channel programming.
NHMC Celebrates Court's Affirmation of Net Neutrality Rules
On June 14, the U.S. Court of Appeals for the D.C. Circuit upheld the
Open Internet Order that the FCC passed last year
. In its ruling, the court affirmed that the agency has authority under Title II of the Communications Act to prevent Internet Service Providers from prioritizing some online content over others. A longtime Net Neutrality advocate, NHMC welcomed the decision for securing the FCC's ability to protect consumers and ensure a level playing field that has allowed the open internet to thrive. The victory preserves not only the open platform that has allowed Latinos to freely organize and tell their own stories, but it also reinforces the FCC's authority to enact policies that will help bridge the digital divide.
The FCC's Lifeline modernization to include broadband internet
is one such policy. This past September, the National Hispanic Media Coalition, represented by noted attorney, Andrew Schwartzman, filed an
amicus brief
in support of the FCC in conjunction with several other civil rights, racial justice and public interest groups. The FCC won on each of its arguments.
NHMC Urges Political Parties to Prioritize Internet Policy
NHMC joined over twenty other organizations in signing onto an open letter to the Democratic and Republican National Committees
, asking the parties to engage in critical internet policy conversations ahead of crafting their 2016 policy platforms. The letter specifically calls on both parties to "ensure that conversations about internet and technology policy include the voices of public interest advocates and affected communities." Signers pointed to the critical role of the internet in education, the economy, and healthcare as evidence to the need of protecting online communication. The letter invites both parties to join public interest advocates and affected communities in conversations around:
Advancing Universal, Affordable Internet Access
Defending a Free and Open Internet
Protecting Individuals' Information and Privacy Online
Michael Scurato, VP of Policy, Speaks at IRE Conference
On June 16th, NHMC's Vice President of Policy Michael Scurato, spoke on a panel at this year's Investigative Reports and Editors (IRE) Conference, which was held in New Orleans. The panel – Who Can Read Your Story? The Digital Divide – included Christopher Mitchell of ILSR and Matthew Rantanen of the Southern California Tribal Chairmen's Association. The panelists discussed Lifeline access and increasing access to those without broadband internet.
---
NHMC is Hiring!
Join the fight for responsible and inclusive media!
Development Associate
NHMC seeks a self-motivated individual with outstanding writing skills for the Development Associate position. Applicant should have previous experience working in a not-for-profit development office. This position is responsible for managing and growing a diverse portfolio of funders through the identification, cultivation, solicitation, and stewardship of new and existing individual donor and foundation prospects. The ideal candidate is a compelling writer with excellent interpersonal and organizational skills.
Click here
to read the full job description and application details for the Development Associate position.
NHMC Policy Fellowship Program – Fall 2016
Are you a current law student who is looking for a paid internship in the fall? NHMC is looking to hire two (2) fellows for its Policy Fellowship Program through the generous support of Facebook and Univision/Televisa. Get a chance to visit and network with executives at Facebook and Univision/Televisa.
Fall 2016 Consideration Deadline:

July 31
Include "Fall 2016 Policy Fellowship" in the email subject line.
---
CCNMA Scholarship Banquet and NAHJ Los Angeles Awards CCNMA
(photo courtesy of Elizabeth Espinosa)
On June 10th, at the Milennium Biltmore Hotel in Los Angeles, the CCNMA Scholarship Banquet and NAHJ Los Angeles Awards took place to honor prominent Latino journalists. NHMC's Alex Nogales served as keynote speaker.
---
Please Support NHMC's Radio Station Radio
NHMC is currently seeking funds to build and staff its low power FM radio station. NHMC programming will air
Monday
through
Friday
from 
5am-9am
Pacific on 101.5 FM near downtown Los Angeles. The broadcast will be available over-the-air in an approximate ten-mile radius around downtown Los Angeles, and will stream live and be archived on NHMC's website. NHMC's programming will feature American Latino creators, storytellers, journalists, activists, leaders, students and others who are underrepresented on mainstream media. For more information visit this 
link.
 Please make a tax-deductible donation to support the launch of this station by clicking 
here
.
---
TV Writers Program Countdown
Move over Justin Bieber – NHMC has its' own social media countdown! Since late May, we've been counting down the weeks and days until the submission deadline for the NHMC TV Writers Program, with a little help from our friends, including Jorge Gutierrez and Ligiah Villalobos! To keep up with our countdown, follow us on 
Twitter
 and
Instagram
.
---
NHMC Welcomes New Communications Assistant
Early June, NHMC hired Clarissa Corona as or new Communications Assistant! Clarissa, a Southern California native, recently graduated with honors from Cal State Northridge with her B.A. in Communication Studies, after three years of study. Prior to NHMC, Clarissa interned with Children's Hospital Los Angeles in both their media relations department and their research communications department. Clarissa has interned with two other nonprofits – SPARK Los Angeles and LAGRANT Communications – as well as with fashion designer Bri Seeley and with the LAPD's Media Relations team. Aside from her passion of literature, Clarissa is passionate about using her voice for good and advancing Latino storytellers in the film and television industry.
---
Tony Awards Recap
Are you on Twitter? Follow us
@NHMC
for our latest updates and live-posting of exciting events in the Latino community. As huge fans of
Hamilton
and Lin-Manuel Miranda, we had our eyes glued to this year's Tony Awards, where Lin-Manuel and
Hamilton
were nominated a historic 16 times! Though the mood was somber following the horrific events in Orlando hours before, the lives lost were honored throughout the evening. Our favorite part hands down was 
Lin-Manuel's beautiful sonnet
 when he won for Best Score for
Hamilton
. Like we said on 
Twitter
– there's a million things Lin-Manuel Miranda hasn't done, just you wait.
---
NHMC Friend and Ally, Alison Sotomayor, Receives Los Angeles Emmy Nom for Documentary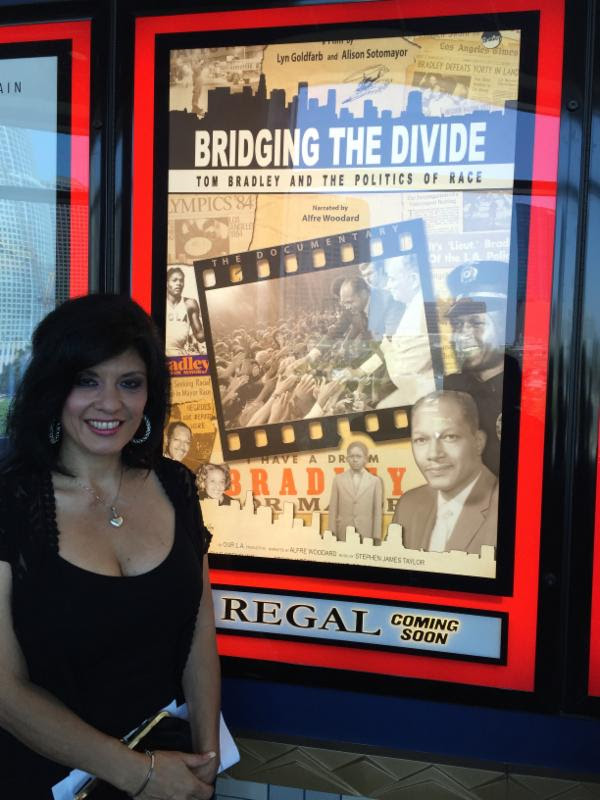 The Los Angeles Area Emmy nominations were released earlier this month. NHMC is excited and immensely proud of long-time friend and exceptional producer, Alison Sotomayor, who was nominated along with her partner, Lyn Goldfarb, for their documentary film, 
Bridging the Divide: Tom Bradley and the Politics of Race
, which aired nationally on 319 PBS stations in 137 markets during Black History Month this year. The documentary reached 96% of the top 25 markets in the country, which is a significant accomplishment for an independent documentary. To read more about Alison and the film, read our blog post
here
.
---
Queen of the South
Tune in Thursdays to USA Network at 10 PM to see 
Queen of the South
and if you missed the premiere, USA is streaming it for free on their site: 
www.usanetwork.com /q
ueenofthesouth
.
Queen of the South tells the story of Teresa Mendoza, a woman who is forced to run and seek refuge in America after her drug-dealing boyfriend is unexpectedly murdered in Mexico. In the process, she teams with an unlikely figure from her past to bring down the leader of the very drug trafficking ring that has her on the run.
Starring Alice Braga (City of God) as Teresa, the original drama series is based on the best-selling novel "La Reina Del Sur," by internationally-acclaimed author Arturo Perez-Reverte.
The series also stars Veronica Falcón (Besos de Azúcar), Justina Machado (Six Feet Under), Peter Gadiot (Tut), Hemky Madera (Weeds), and Gerardo Taracena (Apocalypto).
]]>