3rd Annual NHMC MediaCon Takes Diversity and Latino Inclusion in Media to the Next Level
ABC, CBS, Fox, and NBC Entertainment Heads Talk Steps to Improve Diversity Efforts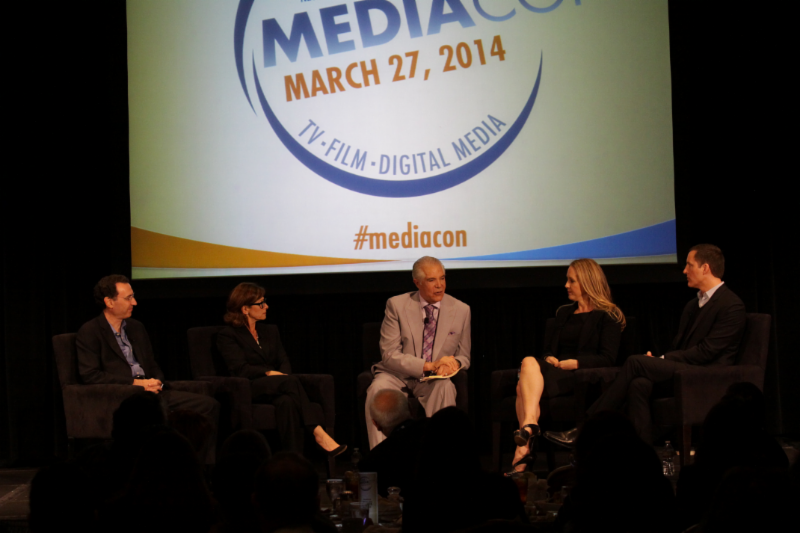 Los Angeles, Calif. 
- The National Hispanic Media Coalition (NHMC) gathered more than 300 media and entertainment industry executives and insiders, Latino industry professionals looking to take the next step in their careers, as well as Latinos looking to break into the industry, at the 
2014 NHMC MediaCon
, held at the Hilton Universal Hotel on March 27 in Los Angeles, Calif. The heads of entertainment at ABC, CBS, FOX, and NBC keynoted the event. Now in its third year, NHMC MediaCon aims to advance Latino images and careers in media and entertainment. In a panel discussion, ABC, CBS, Fox, and NBC's entertainment heads highlighted the importance of having diversity at all levels of employment in their networks, Latinos in particular. "If you do not reflect the face of America, you will not get the ratings," said Paul Lee, ABC Entertainment Group President. "Anyone who says you cannot have a Latino lead or an African-American lead is now proven wrong," he said pointing to the success of 
Modern Family
 and 
Scandal.
NHMC President & CEO Alex Nogales, who moderated the panel, emphasized that diversity's importance goes beyond show business due to media's role in perpetuating discrimination.
"When I push you, it's with that in mind," he told the executives. "If we're [absent or] always portrayed negatively, then that's the way we're treated," said Nogales, who pointed to anti-immigrant law SB1070 in Arizona as an example of how unfair and inaccurate media portrayals can fuel the prejudices in society that allow for discriminatory laws and unfair treatment.
Acknowledging challenges to including diversity, the network chiefs also offered insight into ways to increase the momentum towards their efforts to include more Latinos, other people of color, and women in front and back of camera.
Joe Earley, Fox Broadcasting Chief Operating Officer, encouraged audiences to continue to hold the networks accountable on their diversity efforts by asking the questions "What can be done?", "Who do you need to chastise?", and "What would move the dial with the person creating the show?" Nina Tassler, CBS Entertainment Chairman and the first Latina to lead a network, called attention to the need to facilitate more partnerships among talent agencies, studios, and advertisers to create opportunities for people of color across the nation, citing that including diversity "is the future of our business - and our success depends on it." Jennifer Salke, NBC Entertainment President, underscored the networks' crucial role in proactively creating opportunities to increase entertainment industry access to Latinos because "they don't just happen naturally," and suggested as an example a mentorship program that pairs up network executives and established showrunners with young Latinos. For his part, Nogales pledged not only to continue to chastise the industry for lack of inclusion or negative portrayals of Latinos, but also to mobilize the Latino community to support programs that include Latinos on-screen and behind the camera by commending advertisers for backing the shows, so that the networks can produce more Latino-inclusive shows. This year's panels at the NHMC MediaCon had a special focus on the entertainment industry and aimed to connect current and aspiring industry professionals to emerging trends in entertainment and digital media, best practices, and tools as a means to help Latinos break into and advance their careers in the entertainment industry. Panels included:
The Latino Moviegoer  A discussion on the segmented Latino audience and its movie going habits in the past, present and what is projected for the future. Moderator: Gregory Nava, Writer and Director ("Mi Familia," "Selena, "Frida"). Panelists: Ligiah Villalobos, Writer and Producer ("Under the Same Moon"); Chon Noriega, Director, UCLA Chicano Studies Research Center; and Gabriel Reyes, President, Reyes Entertainment.
Reaching the Emerging Online Audience  A discussion on the opportunities in user generated outlets and digital distribution, what they are looking for in content, and how Latinos can gain access. Moderator: Axel Caballero, Executive Director, National Association of Latino Independent Producers (NALIP). Panelists: Katherine Oyama, Sr. Policy Counsel, Google;Sara Inés Calderón, Editor, Más Wired; and Ruth Livier, Actress/Writer/Producer, Livier Productions, Inc.
Opportunities in TV Content and Programming  Broadcast and cable programming executives discussed opportunities in broadcast, cable and alternative programming, what they are currently looking for in content, and how Latinos can gain access. Moderator: Karen Horne, VP Programming Talent Development and Inclusion, NBC Entertainment and Universal Television Studios. Panelists: Chris Castallo, EVP Alternative Development, CBS Entertainment; David Levine, VP Original Programming, HBO; and Nne Ebong, SVP Drama Development, ABC Studios.
Empowering Latinas: Cesar Chavez - A Case Study in Grass Roots Film Marketing  A conversation with three inspiring women about their respective participation for the bio pic, "Cesar Chavez." Moderator: Ivette Rodriguez, Founder and President, AEM. Panelists: Theresa Wyatt, Principal in Charge of Business Development, Muñoz & Company; Eliana Murillo, Head of Multicultural Marketing, Google; and Olenka Polak , Co-Founder, myLINGO app.
For full conference agenda, speaker biographies, and additional information, visit
www.nhmc.org/mediacon
. Sponsors for the 3rd Annual NHMC MediaCon include Univision Communications, Inc., Comcast NBCUniversal, Entravision Communications Corporation, The Walt Disney and ABC Television Group, Edison International, Sony Pictures Entertainment, CBS Corporation, and NUVOtv. Media partners include Latin Heat Magazine, SAG-AFTRA, The Advertising Society and New Film Makers LA.